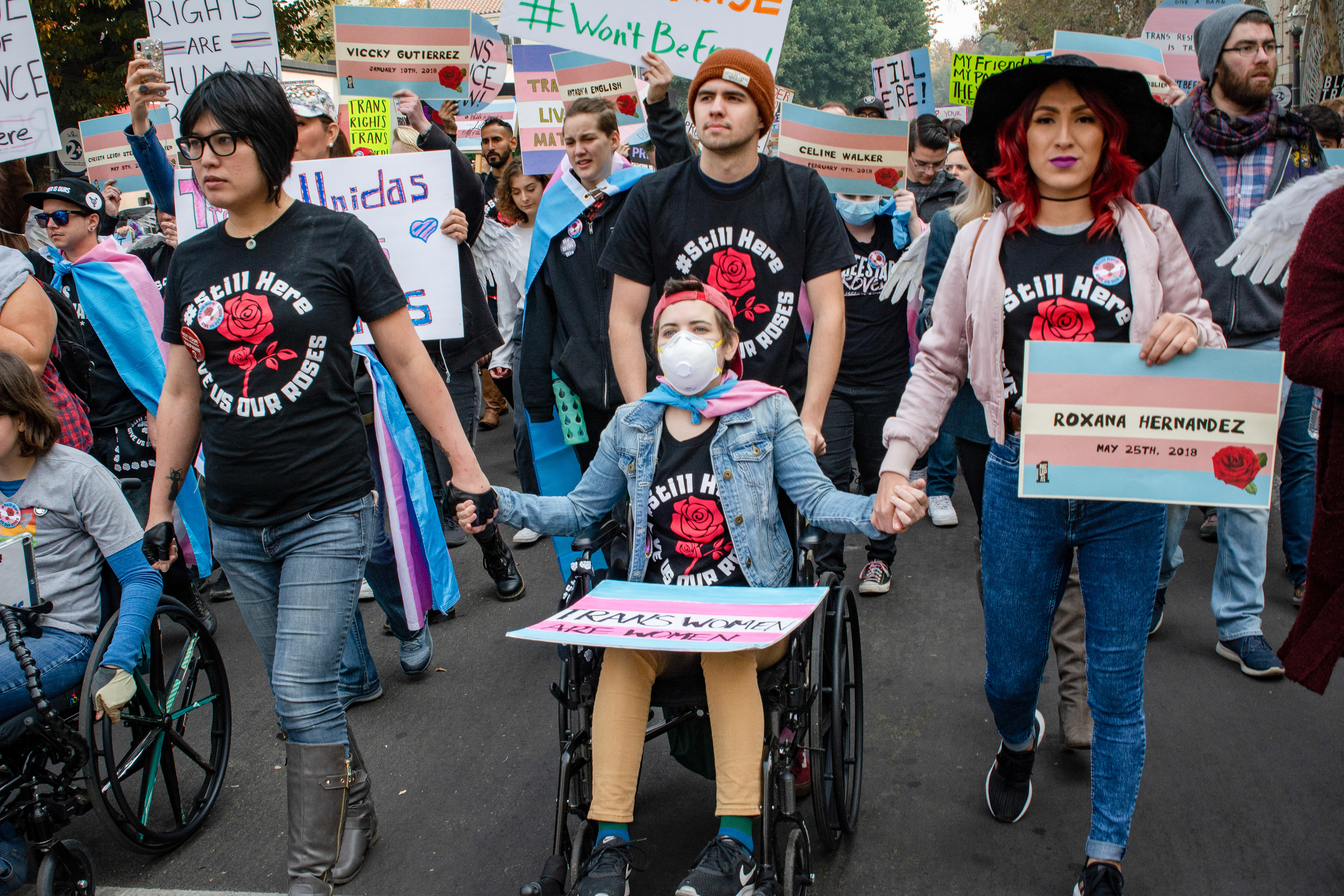 Equal rights for all; Sacramento trans community marches for justice

Leaders, supporters and allies of Sacramento's trans community gathered Saturday to
march
on the state capital–seeking justice and equality for all.
The event organized by the Gender Health Center, a local counseling non-profit, began at the Lavender Library in downtown
Sacramento
and made its way through the city, ending on the steps of the
California State Capitol Building
.
"I wanted to show up and make myself publicly visible as just one of many figures who were calling for trans rights–and it was honestly an extremely empowering and gratifying experience," said Patrick Gem Gabbett, former City College student and Express writer who participated in the march.
"Just because the threat on trans rights has been transitioned or streamlined out of media coverage doesn't mean that it isn't still there," Gabbett continued. "Even without people changing their avatars to say they stand with us, we are still facing erasure everyday, even without the federal government trying to do so."
From the steps of the capital community leaders and activists, including
Nghia Nguyen
from the Gender Health Center and
#stillhere
march organizer;
Ebony Ava Harper
from the California Endowment; community activist
Bianca Lucrecia
and
Rian Lyn Buhacoff
, trans and disabled rights advocate, addressed the crowd on anti-trans violence, housing issues, mass incarceration, employment equality.
"I think that there's a composite of issues in the trans community: There's discrimination regarding jobs and housing–it's really hard to get hired as a trans woman and it's pretty easy to get kicked out of your house or apartment for being trans." said Heather Roegiers, former Express editor-in-chief and current City College student.
Roegiers said she felt compelled to help after the recent moves by the Trump administration to narrow the definition of gender-and if it weren't for the leaked memo, she wouldn't of felt the need to organize quite as strongly.
"I might of ended up missing it, but I felt like because everything has gotten so precarious I thought it was important for me to show up," Roegiers said.
"It was empowering," Roegiers said about the march. "I felt like I had a legion behind me, we all had each other and it made it seem like even though there is so much against us, we can overcome that because we have each other."